As a long time fan of designer vinyl, and especially the works of good friend Matt JOnes, I was fortunate to receive his latest offering Ping Pong Gone Nom Nom Nom!
As you would expect from the man behind Lunartik, this piece has a style all of its own but there is one very obvious difference from his previous works… this one is cast in CONCRETE.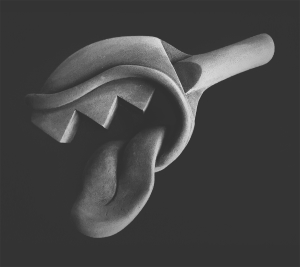 Now I'm certain you are all aware of this particular material and where it's usually found, under your feet in the town centre or propping up the side of your house. But here it is being used to cast Matt's latest run of art toys. I'm sure you're all thinking "does it work?", well I can categorically say to you that it DOES!
Maybe it's something to do with the industrial feel of the material, or its weight, but this particular art toy has an aura about it that lifts it way above the ever growing collections of designer vinyl and into something worthy of hanging alongside what others might consider 'real' art.
Matt now joins a number of art toy luminaries who have moved into new materials and taken the field of designer toys even closer to establishment 'art' and I for one can't wait to own a concrete (or wooden) Lunartik In A Cup Of Tea.
If you fancy owning your own piece of the future of designer toys, get yourself over to the Lunartik Online Shop before they're all snapped up (and they will be). If you can, buy three, and then you can have your own modern take on the classic three flying ducks 😉